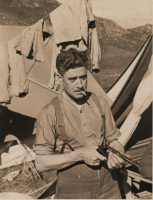 Charles served as 52043 Private, 28th Battalion, A.I.F. from 8 Jan 1918 to 28 Feb 1919.
He was an original member of the unit, embarking aboard "S.S. ZEALANDIA" on 8 Dec 1941 for Timor as a Captain, Officer Commanding, Australian Army Medical Corps Section, Headquarters Group. He was the unit Doctor.
At "Ainaro", he, with the help of his very competent Australian Army Medical Corps personnel, set up a field hospital and convalescent depot, which was a truly remarkable feat, for the unit was fighting a guerrilla action. The hospital was moved many times over the course of the campaign. Stragglers from the Koepang area and many sick and wounded men were nursed back to health, enabling them to take their place in the field again.
After the campaign on Timor, he embarked with the unit, for Australia aboard the Royal Dutch destroyer "Tjerk Hiddes" on 11 Dec 1942 . 
He was Mentioned in Despatches, London Gazette, 25 May 1943 and in the Commonwealth of Australia Gazette, No 119-3 Jun 1943. These are the two Gazettes for the Timor Campaign.
He was awarded a Commander in Chief Commendation Card for service in Timor, Authority, Army Order 69/43 for Bravery and Distinguished Service on 22 Apr 1943. See A Spence Bio page for example
He was transferred to 118th Australian General Hospital on 23 Mar 1943, then 60th Camp Hospital on 17 Jun 1943.
He was appointed Officer Commanding, (OC) 40th Australian Camp Hospital on 20 Oct 1943, he was promoted Major, 10 Dec 1943. He was posted to Headquarters W.A. Lines of Communication as Deputy Assistant Director, Medical Services (DADMS) on 7 Feb 1944. He was appointed Commanding Officer (CO) of 109th Convalescing Hospital on 3 Jan 1945, then as Deputy Assistant Director, Medical Services (DADMS), Headquarters 8th Australian Base Subarea on 9 Mar 1945.
He was transferred to Queensland Lines of Communication Area on 17 Mar 1945 and embarked for LABUAN on 3 Apr 1945. He was appointed as Assistant Director, Medical Services (ADMS), Advance Headquarters, Australian Military Forces on 12 Nov 1945 and enplaned at LABUAN for MOTORAI on 30 Oct 1945, then appointed Assistant Director, Medical Services (ADMS), Headquarters MOROTAI Force on 13 Dec 1945.
He returned to Australia aboard HMAS "PLATAPUS" on 15 Dec 1945 and was discharged on 7 Jan 1946.
He was entitled to the a British War Medal, Victory Medal, 1939-45 Star, Pacific Star, War Medal and Australian Service Medal 1939-45, pictured below. He is now also entitled to the Australian Service Medal 1945-75 with a clasp "S.W.Pacific".
He was appointed a Serving Brother of the Most venerable Order of the Hospital of St John of Jerusalem in London Gazette dated 26 Jun 1964.