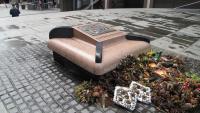 Wayne Havenaar, President of the NSW Commando Association, has advised that the Commando Memorial in Martin Place, Sydney, will be re-dedicated in a ceremony to held at 10:30 am on Wednesday, November 11, 2020 (Remembrance Day).  Wayne advises:
'[The re-dedicated memorial] has a new plaque with all units and deployments since WWII added.
If you have anyone over this way, please let them know they are invited to attend however there are limited places due to Covid 19 restrictions, so booking is essential.
Please see our website www.commando.asn.au on the notices page'.
For information about the memorial, see: https://monumentaustralia.org.au/display/23156-commando-memorial
Ed Willis
President, 2/2 Commando Association of Australia