The 2/2 Commando Association of Australia has provided a grant of USD$5,000 (A$7,254) to St Anthony's International School in Dili to fund the construction of a new classroom.
The grant is in line with the Association's objectives, which are:
•    to fund the improvement of communities in a sustainable way for the benefit of the peoples of Timor Leste, New Guinea and/or New Britain;
•    to promote education about the achievements of the men who were, at any time between 1941 and 1946, enlisted in the No. 2 Australian Independent Company of the Australian Infantry Forces, also known as the 2/2 Commando Squadron ("the unit"); and
•    to honour the memory of the unit and its members and to help people to recognise and appreciate those achievements.
To acknowledge receipt of the grant, the Association requested that the School name the classroom after the former esteemed member of the old Association, the recently deceased Keith Hayes, OAM.  This was done with the approval of Keith's family.  The School responded by naming not just an individual classroom, but the whole building consisting of three classrooms after Keith.  The Association greatly appreciates this gesture.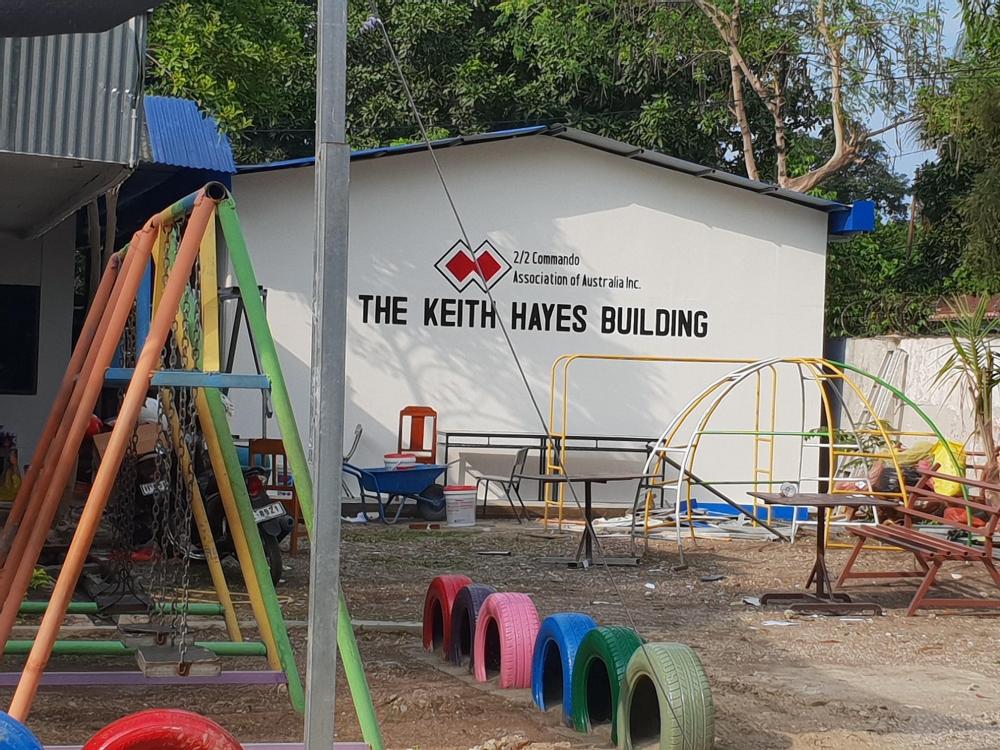 Former Association President Peter Epps has noted that: 'Keith spent many years helping to raise and send goods, school equipment, seeds and money to Timor and that is the main reason for his Life Membership of the Association.  He did not like the lime light especially about his war service and injuries - he was one of the last gentlemen of that era'.
The classroom building is nearing completion and it is anticipated it will be in use by the end of January.
The Association is working with the School to organise an official dedicatory opening of the classroom building to take place on or around Anzac Day (25 April) this year at which a plaque honouring Keith will be unveiled.  Association President John Denman and Vice President Ed Willis, who will be touring Timor-Leste at the time, will participate in the opening.  It is hoped that the Hayes family will also be represented at the ceremony.
St Anthony's International School is located in Rua De St Antonio in the Farol district of Dili.  Keith Hayes survived the notorious 'Ration truck massacre' that took place not far from the school on the day the Japanese invaded on 20 February 1942.  Keith was protected and cared for by a local Timorese woman Berta Donnabella Martins and assisted by her family members in rejoining the unit in the hills outside Dili.
For more information about the School see https://www.aisnt.asn.au/projects/st-anthonys-international-school-dili