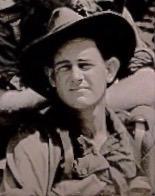 Warwick was an original member of the unit, embarking aboard SS Zealandia on 8 Dec 1941 for Timor as a Private in No 9 Section, "C" Platoon. After the campaign on Timor, he embarked with the unit, for Australia aboard the Royal Dutch destroyer Tjerk Hiddes on 16 Dec 1942.
After leave and reorganisation he embarked with the unit for New Guinea as a Lance Corporal in No 7 Section, "C" Troop aboard SS Duntroon on 17 Jun 1943 and returned to Australia with them aboard Taroona on 3 Sept 1944.
After further leave and reorganisation, he embarked for New Britain aboard Taroona on 9 Apr 1945 with the unit as an Acting Corporal in "I" Section, Headquarters Group. He was promoted to Corporal on 30 May 1945 and transferred to 22nd Infantry Battalion on 26 Dec 1945. He returned to Australia aboard VITO on 16 Jan 1946.
Later served with Service No WX501085.
He was discharged on 11 Mar 1946.
He was entitled to the 1939-45 Star, Pacific Star, War Medal and Australian Service Medal 1939-45, pictured below. He is now also entitled to the Australian Service Medal 1945-75 with a clasp "S.W.Pacific".