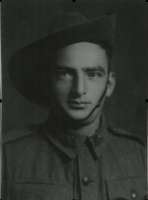 John (Chook) enlisted on 5 Apr 1941 and was an original member of the unit, embarking aboard "S.S. ZEALANDIA" on 8 Dec 1941 for Timor as a Private in No 2 Sect, "A" Platoon. He was involved in the defence of the Dili Airstrip where he was awarded a Mention in Despatches for his distinguished service. After the campaign on Timor, he embarked with the unit, for Australia aboard the Royal Dutch destroyer "Tjerk Hiddes" on either 11 Dec 1942 or 16 Dec 1942, as the embarkation rolls do not differentiate. 
He was Mentioned in Despatches, London Gazette, 25 May 1943 and in the Commonwealth of Australia Gazette, No 119-3 Jun 1943. These are the two Gazettes for the Timor Campaign.
After leave and reorganization he embarked with the unit as a Corporal in No 2 Sect, "A" Troop for New Guinea aboard S.S. "DUNTROON" on 17 Jun 1943. John was medevac'd to Australia 21 May 1944 and after medical treatment he was transferred to Land Headquarters Tactical School on 11 Aug 1944. 
He was discharged on 31 Aug 1945.
John was made a Life Member of the Association in 1985.
He was entitled to the 1939-45 Star, Pacific Star, War Medal and Australian Service Medal 1939-45, pictured below.