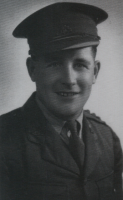 George was an original member of the unit, embarking aboard "S.S. ZEALANDIA" on 8 Dec 1941 for Timor as a Captain, Officer Commanding "C" Platoon.
In Oct 1942, George took over command of "H" Force from Lt Doig.
After the campaign on Timor, he embarked with the unit, for Australia aboard the Royal Dutch destroyer "Tjerk Hiddes" on 16 Dec 1942. 
George transferred to 1st Australian Commando Training Squadron as an Instructor on 1 Jun 1943, then to 4th Australian Reinforcement Training Battalion (Jungle Warfare) on 24 Sept 1943.
He was discharged on 7 Nov 1944.
He was entitled to the 1939-45 Star, Pacific Star, War Medal and Australian Service Medal 1939-45, pictured below. 
George passed away on 14 June 1974.  See 'Courier' August 1974, p.3-4. https://doublereds.org.au/couriers/1974/Courier August 1974.pdf


Edited by Edward Willis
Ad note re passing away