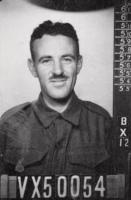 Rolf was born at South Yarra, Vic, 16 Dec 1909. He was on the training staff of the No7 Infantry Training Centre at Foster
He was commissioned Lieutenant on 3 Mar 1941 and Captain, 11 Jul 1941.
Rolf was an original member of the unit, served on Timor as a Captain, Officer Commanding "A" Platoon. On 26 May 1942, he transferred and became Second in Command of Sparrow Force under Major Callinan.
After the unit left Timor, he remained with Sparrow Force Headquarters and he arrived back in Darwin on 10 Jan 1943.
He was Mentioned in Despatches, Twice for service on Timor, London Gazette, 25 May 1943 and 23 Dec 1943.
Rolf was attached to 2/7 Aust Op Report Team on 21 May 1943. After attending courses and training he served in New Guinea, 18 Aug 1942 to 5 Nov 1943 and again 10 Apr 1945 to 16 Jul 1945. He was promoted to Major, 8 Jul 1944. Then served in New Britain 30 Aug 1945 to 16 Dec 1945
He was discharged on 8 Jan 1946.
He was entitled to the 1939-45 Star, Pacific Star, War Medal and Australian Service Medal 1939-45, pictured below. He is now also entitled to the Australian Service Medal 1945-75 with a clasp "S.W.Pacific".


Edited by Peter Epps