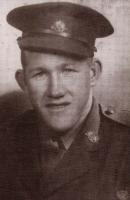 Kevin was an original member of the unit, embarking aboard "ZEALANDIA" on 8 Dec 1941 for Timor as a Corporal in No 2 Section, "A" Platoon. He participated in the defence of the DILI Airdrome on the night the Japanese landed 19/20 Feb 1942. He was promoted Sergeant on 20 Sept 1942 and in Nov 1942, he was commissioned in the field and took command of No 2 Section. After the campaign on Timor, he embarked with the unit for Australia aboard the Royal Dutch destroyer Tjerk Hiddes on 16 Dec 1942. Officially promoted to Lieutenant on 24 Dec 1943.
He was Mentioned in Despatches, London Gazette, 25 May 1943 and in the Commonwealth of Australia Gazette, No 119-3 Jun 1943. These are the two Gazettes for the Timor Campaign.
Attended Officer Training in Woodside, South Australia and embarked for New Guinea aboard "KATOOMBA" on 27 Sept 1943 and re-joined the unit on New Guinea on 18 Oct 1943, he took command of the Transport Section as Transport Officer. As the unit had no transport, the Transport Section was used as another Troop. on 6 Jan 1944, he was wounded in action but remain on duty. At the end of the New Guinea campaign, Kevin returned to Australia with the unit aboard "TAROONA" on 3 Sept 1944.
After leave and reorganisation, he embarked for New Britain aboard "TAROONA" on 9 Apr 1945 with the unit as a Lieutenant, Officer Commanding, No 7 Section, C Troop. Kevin returned to Australia aboard "KANIMBLA" on 4 Oct 1945 and was discharged on 22 Oct 1945.
He was entitled to the 1939-45 Star, Pacific Star, War Medal and Australian Service Medal 1939-45, pictured below. He may now also be entitled to the Australian Service Medal 1945-75 with a clasp.