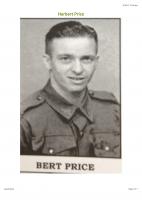 Bert left school at 14 going to work at the Lune River sawmill and continued there until enlisting in the AIF on 1st July, 1940 at the age of 20.  He was posted to the 2/40th, the Tasmanian Battalion. The 2/40th did their training at Brighton and were in Darwin when Japan entered the War on 7thDecember, 1941. Sent to West Timor the battalion with attached units known as Sparrow Force distinguished itself by putting up a brave fight for four days when the Japanese invaded Timor on 19th February, 1941.
Overwhelmed by the sheer weight of numbers the 2/40th had no option but to surrender.  Somehow Bert managed to avoid being a POW and with a number of others went on to join the 2/2nd Independent Company who were in Portuguese East Timor.  He was a good soldier and served his new company well until they made it back to Australia in mid December 1942.  After a brief leave Bert joined the 2/12th Battalion and saw action in New Guinea and Borneo. He received
his discharge on 14th December, 1945.
Herbert joined the unit on Timor as a Private, from 2/40th Battalion, after the fall of Koepang, approx. March 1942.
He was one of the former Koepang men, who moved to the village of Mape for intensive commando training and on 8 May 1942, they were formed into a new Platoon, "D" Platoon under the command of Lieutenant Turton and later under Lt Doig.
After the campaign on Timor, he embarked with the unit, for Australia aboard the Royal Dutch destroyer "Tjerk Hiddes" on 11 Dec 1942.
He left the unit on return to Australia and embarked with the New Guinea Reinforcements aboard "KATOOMBA" on 29 Aug 1943. He was posted to 2/12th Infantry Battalion on 11 Nov 1943.
He returned to Australia with them aboard "VAN DER VOSCH" on 26 May 1944.
Herbert embarked for Morotai with the 2/12th Battalion on 28 May 1945 and embarked Morotai for Borneo on 21 Jun 1945 and he was promoted Acting Corporal on 28 Jul 1945.
He embarked for Australia aboard HMS "IMPLACABLE" on 11 Nov 1945 and was discharged on 14 Dec 1945.
He was entitled to the 1939-45 Star, Pacific Star, War Medal and Australian Service Medal 1939-45, pictured below. He is now also entitled to the Australian Service Medal 1945-75 with a clasp "S.W.Pacific".
He was awarded a National Medal (1978) and Bar (1989) for his civilian service. Then was awarded a Medal of the Order of Australia (1991)
An extensive interview with Bert Price about his wartime experiences can be found at 
Bert Price Timor reminiscences.pdf
Bert Price vale - Courier June 2010.pdf
PRICE_HERBERT_WILLIAM_:_Service_Number_-_TX2781.pdf