While conducting the Compact Teaching Program for Ailelo/Cosbouk and Samara schools during April-May this year, Snr Francisco Jorge dos Santos asked if any members of the local communities had memories of the Australian soldiers who based themselves in this area while fighting against the Japanese in 1942.  Two local men came forward and Francisco recorded the following interviews with them in Tetum that have been translated into English. [1]

They are interesting stories of two men who were criados for the Australians and travelled with them to several named locations until the Australians departed for home by boat from Betano.  Several other men who were also criados (now deceased) are also named in the stories.

H.E. Snr Xanana Gusmão when he met with W.A. Museum staff and members of the 2/2 Commando Association after viewing items from the 'Debt of honour' exhibition in April 2016 stated that he would like the Timor-Leste government to employ a team of appropriately trained Timorese to go out to district locations and interview the old people and their descendants and record their WWII stories.  The two stories conveyed here are perhaps examples of what might be captured if such a program eventuated; but there are many other competing priorities for government funding in Timor-Leste.

1.    MOISES BOBE
When the Japanese army arrived in Dili in 1942, Grandpa Moises Bobe was only 11 to 12 years old.  The Australian army was retreating from Dili with the aim of going to Betano (Manufahi) through the Ermera district.  The Australian army was not alone and they were walking with Dutch army towards Hatolia town.  The Japanese force were hunting the Australian and Dutch army and they killed one of the Australians at the mountain called Atabatu.  Immediately afterwards a Japanese force occupied Hatolia and the Australian and Dutch withdrew.  They walked to Laimea and then decided to go separate ways at a place call Bauili/Bohili.  Grandpa Moises helped to carry some food and other things for the Australian force that was there.  Then, the Australian force walked to Betano to get on the boat while the Dutch army walked to Indonesian area (Atambua).  The people who assisted and accompanied the Australian army in walking to Betano included Jeremias (from Coliati Letefoho), Domingos and Manloe (they have all passed away).  Unfortunately, there is no one else left who has the memory of this history.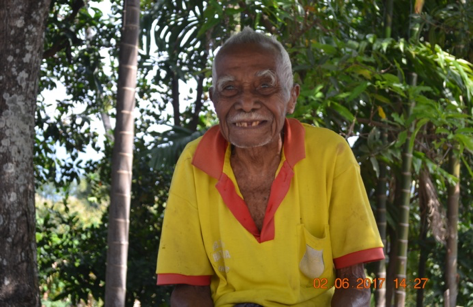 Iha tinan 1942 kuandu forsa Japonese embarka ona iha Dili Avo Moises Bobe halo ona +- tinan 11 ka 12. Iha tempu ne'e forsa Australiano mos retira husi Dili atu ba Betano (Manufahi) maibe liu husi Ermera. Forsa Australiano iha tempu ne'e la la'o mesak maibe sira la'o hamutuk ho forsa Olanda (Dutchs) to'o iha Hatolia Villa. Forsa Japonese mos duni tuir forsa hirak ne'e no konsege tiru mate forsa Australiano ida iha foho ida naran foho Atabatu, iha tempu ne'e kedan forsa Japonese akupa ona Hatolia Villa. Nune'e husi Hatolia Villa forsa Australiano no forsa Duths deside atu retira husi fatin ne'ebá, sira la'o tun ba Leimea Sorin Balun no fahe malu iha fatin ida naran Bauili/Bohili. Avo Moises Ajuda lori sasan no hahan balun hodi fo ba forsa Australiano sira to'o deit  iha fatin ne'e. Nune'e forsa Australiano la'o ba Betano hodi sa'e ro iha ne'ebá no forsa Duths la'o tama area Indonesia nian (Atambua). Ema sira ne'ebé konsege ajuda forsa Australiano sira la'o to'o Betano mak inklui Jeremias (ema Coliati Letefoho), Domingos no Manloe (sira ne'e mate hotu ona). Infelismente Laiha rekordasaun ruma hodi lembra fali tempu ne'eba.

2.    JOSE BRITO MARTINS

At that time, Jose Brito Martins was a child (and he was still naked – this is to describe someone who were still a child and know nothing as he was not feeling embarrassed without clothing) but he can still remember some stories that have been told by his father.  His father's name is Manumeta and he is from Ailelo village.  Australian and Dutch forces were retreating to Ermera in 1942.  Before they reached Hatolia town, they were walking through a track to get Aifu village in Manusaae (Hatolia).  Then, they lived in Batutlau and they asked Manloe to assist them.  Jose's father told him that Manloe and himself were helping the forces to only carry their rucksacks.  The forces brought their special food which they never gave to Timorese.  Both forces also consumed the food such as cassava, sweet potato, young corn which was provided by Timorese.  The forces had been living in Hatolia town only for one week because the Japanese army with their better weapons chased the Australian and Dutch forces.  From Hatolia town, Australian forces split up into three groups. One group with 5 people went to Talo and they were hiding in a cave, one group went to Leimea and the other one went to Tata.  Manumeta was walking together with the group that hidden in a cave in Talo.  From Talo, they decided to walk down to Coliati, then to Saria and reached Dukurai.  Manumeta could not accompany Australian forces to Betano because he was sick and he had to return home from Dukuria.  Jeremias - one of Manumeta's friends was the one who accompanied the forces to Betano.  After Australian forces got the boat, Jeremias was hiding in the area of Betano and Faturbelihu (Manufahi) for many years as the Japanese army came to Betano to pursue the Australian forces and for those Timorese which helping them as well.  Jeremias married a lady from Betano and he has a son called Manuel.  Before Jeremias died, he had brought back his family to Hatolia town.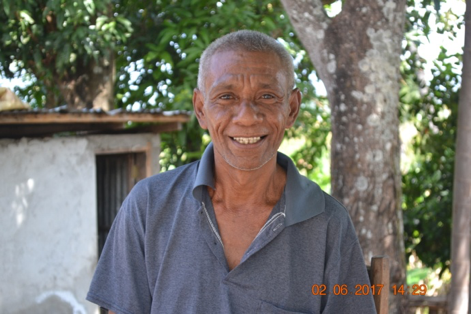 Sr. Jose Brito Martins iha tempu ne'ebá sei labarik (molik hela) maibe bele lembra istoria ne'ebe nia aman konta ba nia. Nia aman naran Manumeta husi suku Ailelo. Iha tin an 1942 kuandu forsa Australiano no forsa Duths retira mai Ermera, molok sira mai to'o Hatolia Villa sira la'o tuir dalan ki'ik mai to'o suku Aifu iha Manusae (Hatolia). Sira konsege hela tiha iha Batutlau no sira kaer Manloe atu bele ajuda sira. Nia apa haktuir ba nia katak nia ho Manloe ajuda lori mak Ransel deit. Forsa hirak ne'e lori rasik sira nia hahan espesial ne'ebe nunka fo ba Timor-oan. Sira mos han hahan hanesan ai-farina, fehuk, batar-nurak ne'ebe fornese husi timor-oan. Sira konsege hela iha Hatolia villa durante semana ida deit tamba forsa Japonese mai ho armas kompletu hodi duni sira. Husi Hatolia Villa forsa Australiano sira ne'e fahe malu ba grupu tolu; grupu ida ho ema nain 5 ba Talo hodi subar iha fatuk kuak, grupu ida la'o ba Leimea Kraik no grupu seluk ida la'o ba Tata. Manumeta la'o hamutuk deit grupu ne'ebé subar iha fatuk kuak iha Talo, husi Talo sira desidi la'o tun ba Coliati sai ba Saria no to'o Dukurai. Manumeta la konsege lori forsa Australiano sira to'o Betano tamba nia moras no fila deit iha Dukurai. Manumeta nia kolega ida naran Jeremias mak konsege lori forsa Australiano sira to'o iha Betano. Hafoin forsa Australiano sira sa'e tiha ro, Jeremias sei subar iha area Betano-faturbelihu (Manufahi) durante tinan barak nia laran tamba forsa Japonese ba buka Forsa Australiano no sira to'o iha ne'eba. Ikus mai Jeremias hola feto ema Betano no iha oan-mane ida naran Manuel. Molok Jeremias mate, nia konsege lori nia familia mai fali iha Hatolia Villa.

[1] The Compact Teacher Training program at the schools was organised by the Melville Friends of Hatolia and funded by the 2/2 Commando Association of Australia.

Translation: Francisco Jorge dos Santos, Detaviana Madelana Guterres Freitas
Edited by Edward Willis