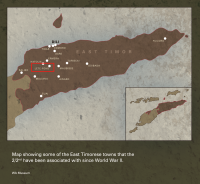 2/2 COMMANDO ASSOCIATION FUNDS COMPACT TEACHER TRAINING  FOR CALOHAN-LETEFOHO VILLA PRIMARY SCHOOL WITH A LARGE CONTRIBUTION FROM THE MELVILLE FRIENDS OF HATOLIA
At a meeting on 7 February, the Committee decided to provide funding to support Compact Teacher Training (Professional Development) for Calohan-Letefoho Villa Primary School, Letefoho Subdistrict, Municipality of Ermera, Timor-Leste.  This follows on the successful completion of a similar training program funded by the Association at Ailelo/Cosbouk and Samara Schools in the Hatolia Subdistrict in July 2017.
The Melville Friends of Hatolia (MFoH) organised the training session at Ailelo/Cosbouk and Samara Schools but wound itself up as an association in late November 2017.  At its final meeting MFoH members agreed to donate the bulk of its remaining funds (approximately $3,800) to the 2/2 Commando Association of Australia to be used to fund professional development training for teachers in Timor-Leste.  This was in recognition of the successful cooperation between the two organisations in completing teacher training and toilet construction projects over the previous three years.
Committee member Ed Willis invited Snr Francisco Jorge dos Santos, Program Manager, Learning Resource Development Center to submit a budget proposal for professional development training at another school and he sent the proposal for teacher professional development at Calohan-Letefoho Villa Primary School for consideration that the Committee approved.
The total cost is US$5,315 = AUD$6,432.  The Association has used the $3800 donated by MFoH towards the cost of the training and 'topped up' the balance (approx. $2,600) from its own funds.
The training program will proceed after the Timor-Leste elections that will be held on 10 May.
The 2/2 Commandos campaigned actively in the Lete-Foho area in 1942 and frequently used the township as a base and enjoyed great support from the Portuguese chefe de posto and the local Timorese people.  Bernard Callinan, one-time commanding officer of the 2/2, held great affection for the place and named his house in Melbourne 'Lete Foho'.
Edited by Edward Willis