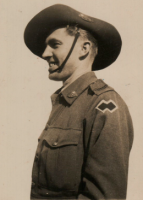 William enlisted into the Australian Military Forces in Perth, with Service No W4134 on 29th Aug 1940 and served with 13th Field Company Engineers, Royal Australian Engineers, he then enlisted in the Australian Imperial Forces, Recruit Training Depot at Claremont, W.A. on 29 Apr 1941 with Service No WX12125. Bill entrained from Claremont, W.A. for 7th Infantry Training Centre, Foster, Vict for Commando Training, on 4 May 1941. After training at Foster, joined the 2nd Independent Company on the 15 Jul 1941. He was  promoted Acting Corporal on 1 Aug 1941 and was confirmed as a Corporal on 8 Dec 1941, the day the unit a sailed for Timor.
As an original member of the unit, he embarked aboard "ZEALANDIA" on 8 Dec 1941 for Timor as a Corporal in the Engineers Section, Headquarters Group. He was involved with blowing the Bridge over the Glano River, when the Japanese landed on 20 Feb 1942. On 8 May 1942, the Engineers Section, with the selected soldiers from the Koepang area, were formed into a new Platoon, "D" Platoon under the command of Lieutenant Turton and later under Lieutenant Doig.
After the campaign on Timor, he embarked with the unit, for Australia aboard the Royal Dutch destroyer "Tjerk Hiddes" on 11 Dec 1942. The unit went to camp in Qld on 23 Jan 1943 and then on leave. Promoted to Lance Sergeant on 10 Apr 1943.
After leave and reorganization, he did not embark with the unit for New Guinea, as he was the Engineer Sergeant, in charge of the Unit stores, which he accompanied, aboard U.S. Navy ship "CITY OF FORT WORTH" on 20 Jun 1943 and re-joined the unit on 26 Jun 1943. Bill was not known as a sailor, he could not go on the Ferry over the Swan River without being sea sick and when on the US Navy ship with all their very good food compared to the Australian Navy, he spent the whole time hanging over the railings. This became a family joke.
He transferred out of the unit from New Guinea on 13 Jun 1944 and flew out of NABZAB,  landing in Townsville on 19 Jun 1944. Bill was promoted to Sergeant on 14 Aug 1944 and attended a Second Australian Army Junior Leaders School, "To train personnel posted as instructors to staff training units (not Infantry) in drill & weapon training" from 14 Aug to 26 Aug 1944. He was posted as an Instructor at 3rd Training Section, Royal Australian Engineers, Kapooka, N.S.W. on 27 Aug 1944.
Bill returned to Claremont Leave and Transit Depot on 5 Dec 1944 for leave and was discharged on 13 Oct 1945 at Karrakatta, W.A..
He was a committee member for many years, which included being Vice President and President, he maintained the Association Area of Kings park for many years and he was made a Life Member of the Association in 1963. His wife Jess was made a Life Member in 1975 and his son Peter in 1991.
He was entitled to the 1939-45 Star, Pacific Star, War Medal and Australian Service Medal 1939-45, pictured below.