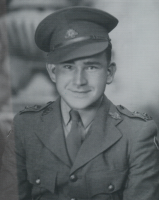 John enlisted on 18 Oct 1940 and during training was promoted Temporary Corporal from 6 Dec 1940, to to Lieutenant 1 Mar 1941. He was an original member of the unit, embarked aboard "S.S. ZEALANDIA" on 8 Dec 1941 for Timor as a Lieutenant, Officer Commanding No 8 Section, "C" Platoon. After his campaign on Timor, he embarked at "BETANO" for Darwin aboard the "KURU" on 16 Nov 1942 as a Lieutenant.
John transferred to 1st Australian Commando Training Squadron on 20 Apr 1943 as an Instructor and then to 4th Australian Recruit Training Battalion as an Instructor on 24 Sept 1943. He then transferred to 2/7th Australian Cavalry Commando Regiment on 1 Nov 1943.
He was discharged 7 Nov 1944.
John was made a Life Member of the Association in 1952.
He was entitled to the 1939-45 Star, Pacific Star, War Medal and Australian Service Medal 1939-45, pictured below.