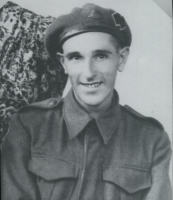 George was an original member of the unit, embarking aboard "S.S. ZEALANDIA" on 8 Dec 1941 for Timor as a Signaller in Signals Section, Headquarters Group. After the campaign on Timor, he embarked with the unit, for Australia aboard the Royal Dutch destroyer "Tjerk Hiddes" on 11 Dec 1942.
He left the unit on 16 Jun 1943 and joined the 44th Infantry Battalion on 4 Jul 1943, he then transferred to 2/32nd Infantry Battalion on 5 Jul 1944. George transferred to 2/2nd Pioneer Battalion on 21 Feb 1945 and embarked for MOROTAI aboard "SEA BARB" on 16 Mar 1945, then embarked for TARAKAN on 22 Apr 1945. He embarked for BALIKAPAN aboard Landing Ship Troop 703 on 23 Jun 1945. George transferred to 2/12th Infantry Battalion on 10 Oct 1945 and returned to Australia aboard "STANFORD VICTORY" on 10 Jan 1946 and was discharged on 25 Jan 1946.
He was entitled to the 1939-45 Star, Pacific Star, War Medal and Australian Service Medal 1939-45, pictured below. He is now also entitled to the Australian Service Medal 1945-75 with a clasp "S.W.Pacific".



Edited by Peter Epps