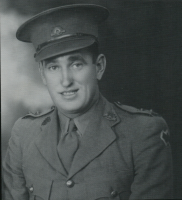 Archie was an original member of the unit, embarking aboard "S.S. ZEALANDIA" on 8 Dec 1941 for Timor as a Lieutenant, Officer Commanding No 7 Section, "C" Platoon. After the campaign on Timor, he embarked with the unit, for Australia aboard the Royal Dutch destroyer "Tjerk Hiddes" on 11 Dec 1942. 
After leave, Archie was seconded, as an Instructor, to the 1st Australian Commando Training Squadron, at Canungra, Qld on 7 Jun 1943.
He transferred back to the unit, on 21 Jan 1945, after it returned from New Guinea and he embarked for New Britain aboard "TAROONA" on 9 Apr 1945 with the unit as a Lieutenant, Officer Commanding No 2 Section, "A" Troop. He was promoted to captain on 29 May 1945, then took over "B" Troop.
He returned to Australia aboard "ORMISTON" on 26 Jul 1945 and was discharged on 27 Nov 1945.
Archie was made a Life Member of the Association in 1984.
He was entitled to the 1939-45 Star, Pacific Star, War Medal and Australian Service Medal 1939-45, pictured below. 



Edited by Peter Epps