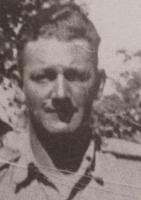 Max enlisted on 17 Jun 1940 and trained at Balcombe and Darley Camps, Tasmania. He joined the 2/40 Battalion at Bonegilla and served about 7 months in the Northern Territory before embarking for Koepang, Timor, in Dec 1941.
After the fall of Koepang, Max made his way to Portuguese Timor and joined up with the unit, in about March 1942. He served as a Corporal on Timor.
He was one of the former Koepang men, who moved to the village of Mape for intensive commando training and, on 8 May 1942, they were formed into a new Platoon, "D" Platoon under the command of Lieutenant Turton and later under Lt Doig. Max was given the temporary rank of Sergeant in command of a new Sect of "D" Platoon
After the campaign on Timor, he embarked with the unit for Australia aboard the Royal Dutch destroyer Tjerk Hiddes on 11 Dec 1942. 
He was transferred to the unit from the 2/40 Bn on arrival back in Australia and was promoted Lance Sergeant on 8 Jun 1943.
After leave and reorganisation, he embarked with the unit for New Guinea aboard "DUNTROON" on 17 Jun 1943 as a Lance Sergeant in No 7 Sect, "C" Troop and was promoted Sergeant on 19 Jan 1944. After the campaign on New Guinea he returned to Australia with the unit aboard "TAROONA" on 3 Sept 1944.
After further leave and reorganisation, he embarked for New Britain aboard "TAROONA" on 9 Apr 1945 with the unit as the Troop Sergeant of "C" Troop.
He left the unit on 25 Aug 1945 and returned to Australia aboard "TAROONA" on 15 Sept 1945 and was discharged on 27 Sept 1945.
He was entitled to the 1939-45 Star, Pacific Star, Defence Medal, War Medal and Australian Service Medal 1939-45, pictured below.