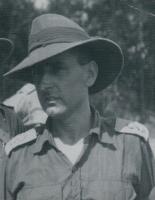 Bernard was an instructor at Demolitions Wing, 101st British Military Mission, 7th Infantry Training Centre, from 3 Mar 1941. He transferred to No 2 Independent Company as a Captain, 5 Jul 1941.
He was an original member of the unit, embarking aboard SS Zealandia on 8 Dec 1941 for Timor as a Captain, the unit's Second In Command, Headquarters Group. He was promoted to Major, Commanding Officer of the unit, 24 May 1942.
On the 4 Jul 1942 was Commanding Officer, Australian Troops, Sparrow Force.
In Nov 1942, he took command of the entire force on Timor, now known as "Lancer Force"
He embarked for Australia from Timor, arriving Darwin, 10 Jan 1943.
He was promoted to Major, 2 Feb 1943 and was Mentioned in Despatches, London Gazette, 25 May 1943 and in the Commonwealth of Australia Gazette, No 119-3 Jun 1943. These are the two Gazettes for the Timor Campaign.
He attended a Junior Staff Officers' course, 2 May 1943 to 9 Jul 1943.
He arrived at Merauke, New Guinea, on 3 Aug 1943.
Was appointed Second in Command, 31/51 Battalion, 5 Nov 1943.
Returned to Australia on 21 Nov 1943 and arrived at Merauke the same day.
He was awarded a Military Cross, London Gazette, 23 Dec 1943, for service in Timor.
Returned to Australia, 20 Apr 1944 and attended, Land Headquarters Tactical School for Senior Officers, until 3 Jun 1944.
He arrived at Merauke, New Guinea, on 5 Jul 1944.
Returned to Australia, 8 Aug 1944.
Arrived Bougainville, 8 Dec 1944 and was attached to 26th Battalion, 30 Jan 1945 to 8 Feb 1945 when as a Temporary Lieutenant Colonel, he took command of 26th Battalion.
He returned to Australia from Bougainville on 8 Jul 1945 and then returned to Bougainville on 4 Aug 1945, he administered Command of 11th Brigade, Sept 1945.
Arrived Rabaul on 17 sept 1945.
Promoted Lieutenant Colonel, 3 Jan 1946 and retuned to Australia, 18 Jan 1946.
He was discharged on 5 Feb 1946.
Post WW2 he served with service number 382001
Awarded a Distinguished Service Order, London Gazette, 14 Feb 1946.
In later life Bernard was awarded the following,
Order of the British Empire, Commander, Civil, London Gazette, 1 Jan 1971.
Knight Bachelor, London Gazette, 7 Oct 1977.
Companion of the Order Of Australia, 26 Jan 1986.
Military Cross
"For outstanding courage, skill and leadership whilst serving with the Second Australian Independent Company, and later with Lancer Force in Portuguese Timor, between February 1942 and January 1943. Always cheerful, cool and clear thinking, this officer was an inspiration to his men during nearly twelve months of guerrilla fighting against vastly superior numbers of the Japanese and hostile natives. His personal recce's through enemy occupied country, the valuable information that he brought back and his skilful handling, first of the Company, then the Force, enabled severe casualties to be inflicted on the enemy and our resistance to be maintained for maximum practicable period. When the Force was ordered to evacuate, he skilfully disengaged contact with the enemy, led it for 3 days over mountains, across rivers, and through swamps, and embarked it without loss of personnel. He personally organised the final details of the evacuation and remained on the beach until the last boat left. Before commencing this evacuation he volunteered to remain in Timor to organise native resistance, but was not permitted to do so.
Distinguished Service Order
"On 26 Feb 45 the unit commenced to advance from the GILLMAN River meeting stubborn opposition from strong enemy pockets. Lt-Col CALLINAN destroyed a number of enemy positions by sound planning and able leadership. The enemy made a strong stand at the COMPTON River and subjected the unit to constant artillery fire. Lt-Col CALLINAN then planned the capture of SORAKEN Plantation by a series of night landings (the first taking place on night 11 Mar 45) behind the enemy forward positions, which had the effect of completely disorganising the enemy resistance and allowing the SORAKEN Peninsula to be captured with practically no casualties to his own men. Despite considerable enemy artillery activity, Lt-Col CALLINAN was constantly moving amongst his men, exposing himself to enemy fire whilst carrying out personal reconnaissance's of enemy positions to plan further attacks. His cheerful disposition and skilful leadership was outstanding and was instrumental in maintaining a very high morale in the Unit, making possible the success of all the actions the Unit was engaged in, despite the determination of the enemy to hold SORAKEN PENNINSULA at all costs. On 5 Mar 45 he successfully cleared SAPOSA ISLAND of the enemy, ensuring the protection of his flank and later occupied TAIOF Island. As commanding officer of 26 Aust Inf Bn (AIF) Lt-Col CALLINAN was responsible for clearing the enemy and gaining control of the North West coast of Bougainville.








Edited by Peter Epps