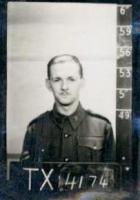 Berwin had served with 12/50th Battalion as a Sergeant prior to enlisting in Citizen Military Force (Reserve) on 28 Apr 1940 and he was promoted Acting Corporal on the same date. He was promoted Acting Sergeant on 2 Sept 1940. He transferred to the A.I.F. on 28 Nov 1940 and was posted to Australian Army Pay Corps and attached to 2/40th Battalion. He joined the unit on Timor from the Australian Army Pay Corps as a Sergeant, after the fall of Koepang, approx March 1942. He served in Headquarters Group and compiled a nominal roll of the unit in Aug and Sept 1942, which was the only Roll of the unit for those serving on Timor during those two months. After the campaign on Timor, he embarked with the unit, for Australia aboard the Royal Dutch destroyer "Tjerk Hiddes" on 11 Dec 1942.
Left the unit on return to Australia and transferred to District Accounts Office on 1 Mar 1943, he was promoted to Acting Staff Sergeant on 19 Nov 1943, which was confirmed on 12 Jan 1944 and promoted to Acting Warrant Officer Class II on 13 Jan 1944. Rank of Warrant Officer Class II confirmed on 13 Apr 1944 and he was discharged on 10 Sept 1945.
He was entitled to the 1939-45 Star, Pacific Star, Defence Medal, War Medal and Australian Service Medal 1939-45, pictured below. 
Berwin was awarded the Efficiency Medal in the Commonwealth of Australia Gazette No-22 Apr 1948.
Berwin Dennis's Timor reminiscences.pdf
DENNIS_BERWIN_FRANCIS_:_Service_Number_-_TX4174.pdf
Denny Dennis obit - Courier August 1997.pdf
On the run in Timor - Border Mail.pdf