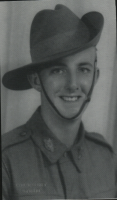 Oscar served in the 120th Heavy Battery, Royal Australian Artillery (RAA), Australian Military Forces (Reserves) from 3 Jul 1939 until he transferred to the AIF on 3 Nov 1939 with Service No SX881. He was posted to 2/3rd Field Regiment, RAA.
He embarked from Sydney aboard H.T. X.I on 4 May 1940 and disembarked at Gourock, Scotland on 17 Jun 1940. He then embarked aboard H.T. L.II on 15 Nov 1940 and disembarked in the Middle East on 31 Dec 1940. Oscar then embarked aboard "SS PENNLAND" for Greece / Crete on 31 Mar 1941. He was wounded in action on Crete on 28 Apr 1941 with Multiple GSW ( Gun Shot Wounds) and evacuated back to Palestine on 7 May 1941. He was flown back to Australia on 15 Sept 1941 and after medical treatment, he returned to the 2/3rd Field Regiment, RAA on 9 Apr 1942.
Oscar was posted to 1st Australian Commando Training Battalion on 25 Feb 1943 and joined the 2/2nd Commando squadron on 15 May 1943.
He embarked with the unit for New Guinea as a Trooper in No 4 Sect, "B" Troop aboard S.S. "DUNTROON" on 17 Jun 1943 and returned to Australia with them aboard "TAROONA" on 3 Sept 1944. He was appointed Paid Lance Corporal on 15 Jan 1945 and after leave and reorganization, he embarked for New Britain aboard "TAROONA" on 9 Apr 1945 with the unit as a lance Corporal in No 4 Sect, "B" Troop. He attended and qualified at No 2 Mobile Team Junglecraft (sic) Wing Course No 2, New Guinea, from 8 Jun to 10 Jul 1945.
He was discharged on 6 Oct 1945.
He was entitled to the 1939-45 Star, Africa Star, Pacific Star, War Medal and Australian Service Medal 1939-45, pictured below. He would also be entitled to a Greek War Medal for service in Greece / Crete.