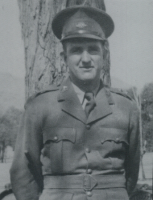 Tony enlisted on 22 Oct 1939 and was posted to 2nd Field Regiment, Royal Australian Artillery (RAA), he was appointed Lance Bombardier on 6 Apr 1940 and temporary Bombardier on 23 Apr 1940. He qualified at a Special A.I.F. Artillery Course, 29 Apr - 29 Jun 1940. He was commissioned Lieutenant on 1 Jul 1940 and was posted to 2/11th Field Regiment on 17 Jul 1940. He embarked for the Middle East with them on 10 Apr 1942, attending A.I.F. School of Artillery, Middle East, 29 Aug - 10 Sept 1941. He returned to Australia aboard "MELBOURNE STAR" on 20 Apr 1942
Tony was posted as an instructor at 1st Australian Commando Training Squadron, 16 Oct 1942 to 14 May 1943. He transferred to the unit at Canungra, Qld on 15 May 1942. As a Lieutenant, Officer Commanding No 7 Sect, "C" Troop, he embarked with the unit for New Guinea aboard "DUNTROON" on 17 Jun 1943 and returned to Australia with them aboard "TAROONA" on 3 Sept 1944. After leave and reorganization, he was promoted Captain on 7 Mar 1945 and embarked for New Britain aboard "TAROONA" on 9 Apr 1945 with the unit as a Captain, Officer Commanding "C" Troop.
He flew back to Australia on 23 Sept 1945 and was discharged in 10 Oct 1945.
He was entitled to the 1939-45 Star, Africa Star, Pacific Star, War Medal and Australian Service Medal 1939-45, pictured below.