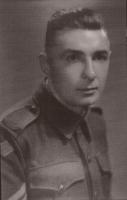 When Colin enlisted in the A.I.F. on 1 Jul 1941 he had served as a Corporal in 112th Australian General Hospital in Citizen Military Force (Reserves). After training at Foster, Victoria, Colin joined No 3 Australian Independent Company, was promoted to Corporal on 1 Jul 1941 and served on New Caledonia from 17 Dec 1941 to 8 Aug 1942. He joined the unit at Canungra, Qld, as a Corporal in the Regimental Aid Post. He embarked with the unit for New Guinea aboard SS "DUNTROON" on 17 Jun 1943 and returned to Australia aboard "ORMISTON" on 30 Mar 1944.
Colin re-joined the unit on 7 Oct 1944 and after leave and reorganisation, he embarked for New Britain with the unit aboard Taroona on 9 Apr 1945 as a Corporal. He left the unit and returned to Australia aboard ORMISTON on 26 Jul 1945 and was discharged on 25 Mar 1946.
He was entitled to the 1939-45 Star, Pacific Star, War Medal and Australian Service Medal 1939-45, pictured below. 


Edited by Peter Epps