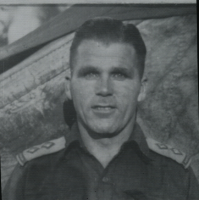 Jack joined the Permanent Military Forces of Australia on 19 May 1936 and served with the following prior to the Japanese entry into the war.
3rd Light Horse regiment (CMF), Royal Australian Engineers, Australian Instructional Corps, 52nd Infantry Battalion and 46th Infantry Battalion. After which he attended the Royal Military College, Duntroon.
He was commissioned on 30 Jun 1942 and served with 10th Aust Infantry Battalion until transferr to the unit to setup a staging section in the Northern Territory on 25 Nov 1942. He joined the unit on their return from Timor at Larrimah, NT, December 1942.
After the unit reorganized, he embarked with the unit for New Guinea as a Lieutenant, the Unit Adjutant, Headquarters Group aboard S.S. "DUNTROON" on 17 Jun 1943 and returned to Australia with them aboard "TAROONA" on 3 Sept 1944. 
After leave and further reorganization, he embarked for New Britain aboard "TAROONA" on 9 Apr 1945 with the unit as a Captain, Officer Commanding, No 6 Section, "B" Troop.
He was the units Demobilisation Officer and continued serving with the Australian Army, with service No 456, with the following.
Victorian Scottish Regiment, School of Tactics and Administration HQ 3rd Division, Army Apprentice School, 22 Royal Victorian Regiment and AHQ, Army Records Office. 
He was placed on the retired list as a Lieutenant Colonel on 20 Nov 1972.